TripleGuard Cigarette Holder
Combining Maximum Tar Filtration and Smooth Airflow to Reduce Harmful Toxins
TripleGuard cigarette holder is meticulously crafted using advanced filtering technology to help reduce harmful substances in cigarette smoke, providing a smoother and more enjoyable smoking experience. With perfect airflow, a large storage tank, and smooth suction, TripleGuard cigarette holder filters offer exceptional value for an affordable price.
Suitable For Standard And Slim Size
*Free Slim Converters Provided With Bundles
What Makes ANTI TAR® Cigarette Holder Safe To Use
Highest Quality On The Market
Food Grade Plastic & Lab Approved
With every puff, you are inhaling over 7,000 toxins and your body has to work super hard to produce phlegm and prevent infections – putting your body under this much stress often translates into less energy, a foggy brain, and long-term diseases.

ANTI TAR® provides a high-quality 3rd gen filter option that reduces harmful substances, promoting a potentially better smoking experience.
NOT ALL FILTERS ARE CREATED EQUAL
1st Generation

3rd Generation (Latest Technology)

Cheap unhealthy plastic

Premium Quality - Food Grade Plastic
Lab Tested & Approved

Tiny Vent - Slower Suction

Uncomfortable and Slips Easily

Wider Vent - Smoother Suction

Anti-slip and Comfortable to Bite

How many times can be used

8-20x

Most brands don't capture enough tar, nicotine, or other toxins.




5-6x

Notice how fewer times our filter can be used despite the bigger storage tank. This is by far the best indicator of high-quality filters.
---
Buy More Save More!
Enjoy Huge Savings As Low As $26/ Box Only
Here's Why You Should Seriously Consider Buying 6 Boxes At A Discounted Price
Original 6 boxes price stands at $294. Since we get to save a lot when shipping bulk orders, we feel it's only fair to pass the savings on to you!

This is why you can enjoy 6 boxes (3-month supply for a pack-a-day) for just $156 when you order today.

Protect Your Lungs with ANTI TAR® Filters
Our filters are designed to reduce the amount of tar and harmful substances that reach your lungs. We also aim to support your journey towards quitting smoking. Many of our customers report feeling better in as little as five days of using our product.
Enjoy Smoking More Healthily with ANTI TAR® Filters
While we encourage quitting smoking, we understand that it is a personal choice. Our filters are designed to help you smoke more healthily by reducing the amount of tar and harmful substances. Many of our customers choose to smoke less and more healthily using our filters.
60-Day Money-Back Guarantee
If you haven't made up your mind yet, know that your order is protected by a 60-day money-back guarantee. We want you to love ANTI TAR®, however, if you don't adapt to our filter, or find that they are not right for you, you can simply reach out to us and we'll refund your whole order (including shipping), no questions asked.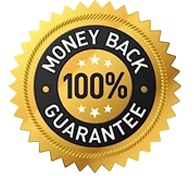 Frequently Asked Questions
Yes, and it's undeniable! There are plenty of benefits for incorporating filters. The primary and main benefit concerns your health, preventing tar and toxins from reaching your lungs means no more coughing, better breathing, and more energy. That's not all, you can enjoy a whiter smile, get rid of stains from your fingers, and even quit, if you want to.
Our filters are manufactured with high-rated and safe plastic: Polyethylene (PE) plastic + Polystyrene (PS) plastic + Silica Gel (Food Grade).
Yes, ANTI TAR® is totally safe. You've got nothing to lose and everything to gain.
ANTI TAR® leverages the Venturi Principle and latest filtering technology to manipulate the airflow and trap harmful substances inside the storage tank.
Generally, you should not notice any difference. ANTI TAR® wide vent aims at keeping the airflow as natural as possible.
Our brand name is our bond. While other big brands such as TarGard, Nic-Out, TarBar, and TarBlock use 1st-generation filters, we invest in producing 3rd-generation filters that are much more effective and don't ruin the smoking experience as much.
3rd Generation filters are 3 times as effective as 1st generation filters. Not only that, the design has a wider vent and a smoother suction, making it easier to inhale and more comfortable on your lips.